How to Turn Your Legal Practice into a Financial Success
The Solicitor's guide TO MARKETING AND GROWING A BUSINESS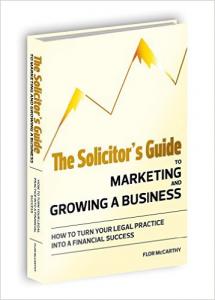 Flor McCarthy has written a book.
It's not just any old book – it's one full of fine ideas for all law firms to help improve their profitability. Whilst Flor practices in Cork the perspectives and insights and suggestions he brings are ideal for all firms, be they in Ireland, or England and Wales.
The book is very easy to read, full of tips and strategies you can easily adopt, and has a very useful glossary on marketing language. It has also been endorsed at it's launch by the Irish Minister for Justice & Equality, Frances Fitzgerald.
It is available on Amazon and you can also buy it here. Flor and ourselves will shortly be launching a joint offer for our clients, so please drop us a note if you are interested in hearing more about this.