Conveyancers, are you afraid of outsourcing?
For many years outsourcing has been seen as 'a bit of a scary prospect' within the conveyancing sector.  
The stamp duty holiday put unforeseen pressure on property solicitors and with no sign that demand is slowing, conveyancers are now realising some of the many benefits.
We are in the age of 'now', where consumers expect everything to be 'delivered' to them instantly. The same applies to professional services and those within the property sector.
Many conveyancing firms are increasingly using outsourcing as an additional resource to help with overflow when their internal secretarial staff require a helping hand to achieve maximum efficiency. The past two years have taught us that employees no longer need to be on-site or in the office all of the time.  Recruiting staff full-time can lead to complications concerning costs, efficiency, and, most importantly, security and confidentiality. This is especially true in a marketplace where future demand is hard to predict and is very much reliant on our recovery from the pandemic.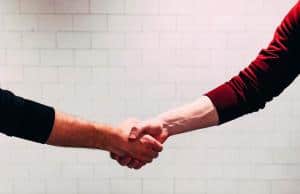 Outsourcing partners can work alongside in-house staff to ease the workload that might easily overwhelm them and cause delays to the client. This has certainly been the case recently; increased staff absence due to illness or stress and increasingly complicated hybrid and flexible work patterns have given rise to new managerial challenges. Outsourcing often positively impacts cost-efficiency; this efficiency is achieved through flexible on-demand rates where the firm only pays for the work that needs to be done.
Reliability can also be a major concern for those considering outsourcing some of their work processes. The advantages of in-house staff have previously been perceived as having easy and direct communication channels plus consistent standards set in place. The best outsourcers, however, have a solution with tailored 24/7 support, direct access to real humans via email, phone and software, and highly experienced staff who are trained to produce work to your exact requirements and high standards.
For those worried about security, look for outsourcers who hold accreditations like ISO 27001:2013 highlighting best practice standards and reliable security measures to ensure your work remains private and confidential.
All things considered, there is really no reason not to explore the possibilities of outsourcing. It's an effective way to make sure your firm remains efficient even when the going gets tough and work piles up. Not to mention that your in-house staff might not always be available. There is annual leave to consider, sick days, and untold reasons why an employee might be forced to turn up late for work. With an outsourced team to support you and a shared knowledge base of how to complete your work, you will never be left without a trusted resource and critical backup for business continuity.
Outsourcing allows you to be productive even when life throws inevitable complications and badly timed events your way, which is extremely important in the UK's current booming housing market.
Don't be afraid of outsourcing, it might just be the key to unlocking the next level in your thriving firm!
Get in touch to find out how firms are already outsourcing their typing and document production functions to save on costs and improve their turnaround time to clients.
Fill in the form below to get in touch with one of our team to learn how you can benefit from our service.