Sharon Sartain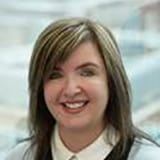 General Manager
Sharon manages many varied aspects of the resources within Document Direct and has been with the team from its early days.
Her prime responsibilities include the programming of resources to ensure we have our famed 24 hour / 7 day support available to all clients, and she has deeper responsibility within a typing supervisory role and customer services.
Her senior administrative experience has included positions in insurance, surveying and education, from roles such as Office Manager and Human Resources Assistant, to working in a scientific research laboratory dealing with highly confidential and patented work
During her time in research she obtained her NVQ 3 in Business Administration and enjoyed the process so much, she then qualified as an NVQ Level 3 Business Assessor which enabled her to assess and help her colleagues pass their own respective NVQs.
Tips to our clients, from experience
Don't dictate whilst taking your four year old son round a farm. You might end up saying "Don't do that – note for typist, I don't mean you"
Favourite sport or pastime
Sharon loves the theatre/music/cinema and supporting Everton!
Favourite country visited
Cyprus
Favourite tipple
Red wine or very dry cider
Best TV box set or favourite movie
Favourite box set is "24" and favourite movie – don't laugh – The Goonies.