Erica Glynn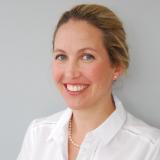 Business Support Manager (Ireland)
Erica joined the Document Direct team in May 2014. She is based in Dublin, Ireland and helps ensure the smooth running of our services in Ireland by dealing with front line client training and issues.
Originally from Italy, Erica came to Ireland in 1995, fell in love with an Irishman and has never looked back!
Erica has almost 20 years' experience in IT and administration mainly within the legal field.
She worked previously as a technical team leader for a large US multi-national company. Subsequently Erica worked in a legal firm and gained considerable knowledge in conveyancing and litigation areas of law.
Favourite sport or pastime
Erica loves making things…, reading, skiing and practising yoga.
Favourite country visited
Do I have to say Ireland?
Favourite tipple
A cool glass of sparkling Prosecco. (Just one because I am the cheapest date on the planet!)
Best TV box set or favourite movie
The Matrix trilogy, Avatar, Lord of the Rings, Star Wars, Jeeves and Wooster, the Illusionist, Easy Virtue…I can't choose one!